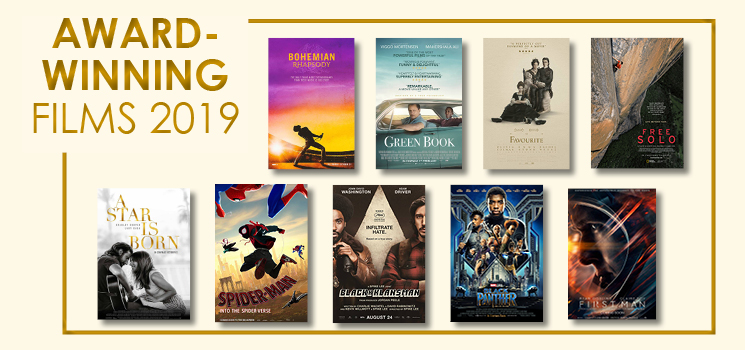 We are very proud to represent the majority of the films which have swept all the big 2019 awards. Take a look below to see which films you may want to screen for your audiences' pleasure.
GREEN BOOK
Director: Peter Farrelly | Starring: Mahershala Ali, Linda Cardellini, Viggo Mortensen
Set in America in 1962, Green Book tells the heart-warming true story of Tony Lip, a working-class Italian-American bouncer who takes on a job as a chauffeur for Dr. Don Shirley, a highly-educated African-American classical pianist.
Sign-up to be notified to book
THE FAVOURITE
Director: Yorgos Lanthimos | Starring: Olivia Colman, Emma Stone, Rachel Weisz, Nicholas Hoult, Joe Alwyn, James Smith, Mark Gatiss, Jenny Rainsford
A bawdy, acerbic tale of royal intrigue, passion, envy and betrayal in the court of Queen Anne in early 18th century England.
FREE SOLO
Director/Producer: Elizabeth Chai, Vasarhelyi, Jimmy Chin | Starring:  Alex, Honnold, Tommy Caldwell, Jimmy Chin, Cheyne Lempe, Mikey Schaefer, Sanni McCandless, Dierdre Wolownick, Peter Croft
FREE SOLO is an extraordinary feature documentary that will have viewers holding their breath and clinging to the edge of their seats. The film provides an intimate and unflinching portrait of professional rock climber Alex Honnold as he prepares to attempt the first ever free solo climb (ie without ropes or safety gear) of the 3,200-foot, vertical face of El Capitan, one of the highest peaks in America's Yosemite National Park.
BOHEMIAN RHAPSODY
Director: Bryan Singer | Starring:  Rami Malek, Lucy Boynton, Gwilym Lee, Ben Hardy, Joe Mazzello, Aidan Gillen, Tom Hollander, and Mike Myers, Allen Leech, Aaron Mccusker
BOHEMIAN RHAPSODY is a foot-stomping celebration of Queen, their music and their extraordinary lead singer Freddie Mercury. Freddie defied stereotypes and shattered convention to become one of the most beloved entertainers on the planet. The film traces the meteoric rise of the band through their iconic songs and revolutionary sound.
A STAR IS BORN
Director: Bradley Cooper | Starring: Bradley Cooper, Lady Gaga, Andrew Dice Clay, Dave Chappelle, Sam Elliott, Anthony Ramos
Cooper plays seasoned musician Jackson Maine, who discovers - and falls in love with - struggling artist Ally (Gaga). She has just about given up on her dream to make it big as a singer... until Jack coaxes her into the spotlight.
BLACKkKLANSMAN
Director: Spike Lee | Starring: Adam Driver, Laura Harrier, John David Washington
Ron Stallworth, the first African-American detective on the Colorado Springs Police Department, resolves to make a name for himself and a difference in his community. He bravely sets out on a dangerous mission: infiltrate and expose the Ku Klux Klan.
BLACK PANTHER
Director: Ryan Coogler | Starring: Chadwick Boseman, Michael B. Jordan, Lupita Nyong'o
T'Challa, the new ruler of the advanced kingdom of Wakanda, must defend his land from being torn apart by enemies from outside and inside the country.
SPIDER-MAN: INTO THE SPIDER-VERSE
Director: Bob Persichetti, Peter Ramsey | Starring: Shameik Moore, Liev Schreiber
'Spider-Man: Into The Spider-Verse' introduces Brooklyn teen Miles Morales, and the limitless possibilities of the Spider-Verse, where more than one can wear the mask
FIRST MAN

Director: Damien Chazelle | Starring: Ryan Gosling
A visceral, first-person account, based on the book by James R. Hansen, the movie will explore the sacrifices and the cost--on Armstrong and on the nation--of one of the most dangerous missions in history.