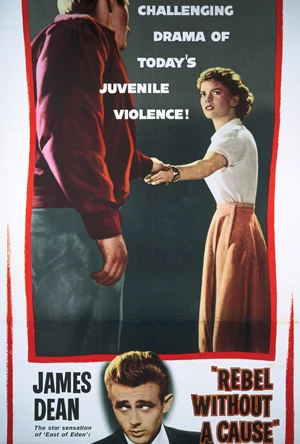 REBEL WITHOUT A CAUSE
Available From:
01/01/1950
Synopsis:
In one of moviedom's most influential roles, James Dean plays Jim Stark, the newkid in town whose loneliness, frustration and anger mirrored those of post-war teens - and reverberate nearly 60 years later. Natalie Wood (as Jim's girlfriend Judy) and Sal Mineo (in his screen debut as Jim's tag-along pal Plato) were Academy Award nominees for their achingly true performances. Director Nicholas Ray was also an Oscar nominee for this landmark film chosen as one of the Top-1oo Ameican Films by the American Film Institute.
Notice:
TITLE BOOKABLE ON VIRTUAL SCREENING ROOM.
Details
Director(s):
Nicholas Ray
Distributor:
Warner Bros.
Cast:
Corey Allen, James Dean, Ann Doran, Dennis Hopper, Rochelle Hudson, Sal Mineo